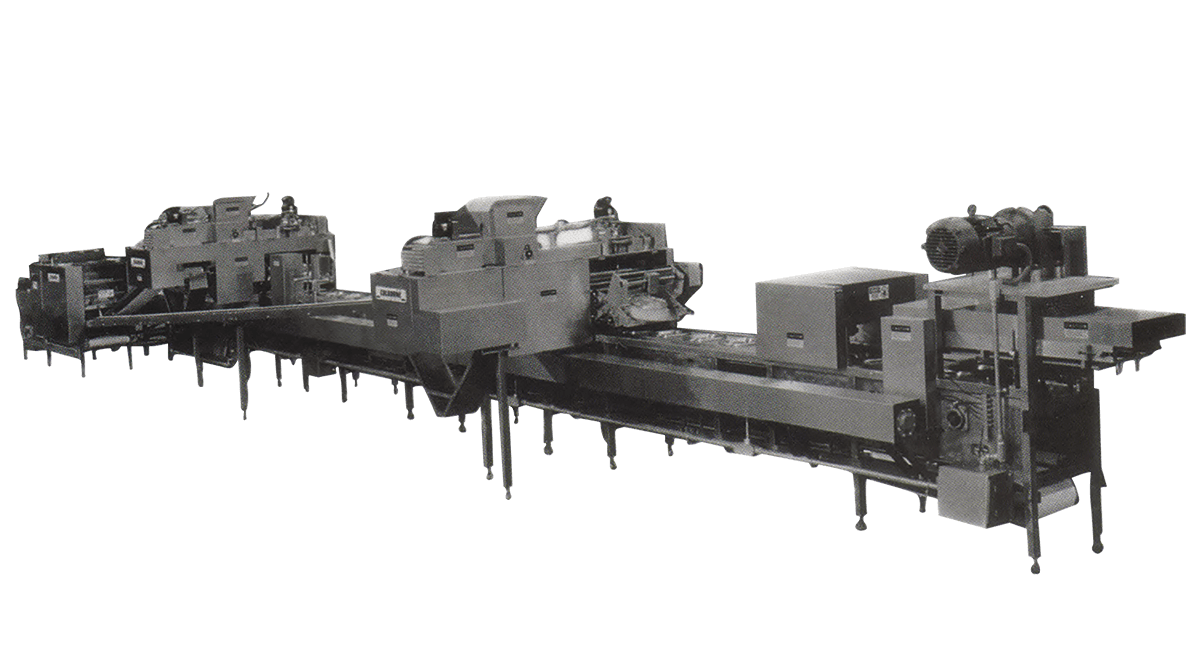 Flaky Pie Crusts
Just Like Handmade
Traditional flaky American pie crusts no longer need to be made by hand. This cross-sheeter makes it automatically.
Artisanal three-direction cross-sheeting
With this method we take an individual block of dough. Sheet it one direction, turn it 90° and sheet in the other direction, then turn it 90° again and sheet it in the other direction. This technique mimics how dough is sheeted by hand, which creates that flaky crust we all know and love. The process is automatic and repetitive, producing the same quality bottom and top crust every time.
More versatile than ever before, this is the latest revolution in high speed commercial production of pies. With a great deal of flexibility the line completely automates the assembly of various types of pie type products from 2-crust fruit pies to pie shells to crumb based cream pies and cheesecakes. These shells can be made using a traditional trimmer – or to create an appealing high rim deep dish pie, the shell rims can be crimped with an optional rimmer section.

This line is capable of producing over 120 large pies per minute and 480 small pies per minute. The line can be configured for complete automation from automatic dough feeding to oven or freezer loading. This machine comes with a series of attachments that include dough dividing, dough sheeting, foil dispensing, various filling technologies and crimping/sealing and trim dough return.
Get My Pricing
Pie Diameter
3"-11.8"
Speed


Actual Rates Determined
By Product Make-Up

3"-4" - Variable Up to 480/min
4"-6" - Variable Up to 240/min
6"-11.8" - Variable Up to 120/min

Machine Size


Actual Size Varies Based
On Added Features

41'8" L x 5'8" W x 5'8" H
Construction

IP-65 Washdown
Optional IP-67 High-Pressure Washdown

Controls

Allen Bradley PLC
Allen Bradley PanelView Color HMI

Electrical Power Requirements
Wired To Your Plant's Specifications
Pneumatic Power Requirements
Varies, Based on Modular Components